AppSumo Lifetime Deals-Save Time and Money
AppSumo lifetime deals are one-time deals for apps, ebooks, and services. With the AppSumo review, you can find products like the AI tools of Rytr, Writesonic, and much more.
The perfect deals for someone who wants to try it for free. I found that the AppSumo review has many offers that are worth the short-term price. The AppSumo review can also help you save money by suggesting different offers for products that you may not know about.
6 Reasons why you should purchase products from Appsumo
The top tech deals site! You'll find tons of products with discounts ranging from 10% – 80%, with an average of 60% off.
Here are six reasons why you should purchase products from AppSumo:
You'll find the latest tech deals
You'll find moderate offers
You'll find products you can't find anywhere else
Deals are constantly updated
Deals are constantly changing
What Will You Get When You Purchase AppSumo Products
This page may or may not contain affiliate links. If you purchase a product, then I will receive a small commission at no cost to you.
The products offered by Appsumo are innovative and easy to use. The company deals with high-quality products.
AppSumo Alternatives
Many other websites offer similar features to AppSumo, but buyers should always be sure to read reviews for any website they consider using. AppSumo has a history of about years. Longevity is important.
Remember that most deals are lifetime deals for the person or the lifetime of the business. One con is there is no guarantee on how long the company will be in business. Most products on Appsumo are new, so there is no history of length in business. The risk is worth the money because the price is nominal compared to the value of the product.
What is an AppSumo Code for each product?
Ready to take an app to the next level? Maybe take it to the next level after the level you created yesterday? Introducing AppSumo codes for Lifetime Deals – Whenever you purchase a code, you'll get more of the product. Here are some examples: A. Get 10 Credits for every code you purchase. B. gets 25 credits for the additional code.
The redemption code is an AppSumo code that you complete with the product provider. The code is active for about two months. If you fail to activate the AppSumo code then the lifetime deal will be lost.
Products I purchased from AppSumo
The links below are affiliate links. If you purchase a product, I will receive a small commission at no cost to you.
AppSumo is one of the websites that give outstanding deals at a very reasonable price. I purchased Rytr, ContentBot.AI, NeurtalText, and Writesonic. However, the deals will include a limit on the credits you can use for blog and website development.
The deals will include a limit on the number of credits you can use for buying a lifetime subscription to Rytr.me (AI writer). The company only offered one code. For example, you can try the free plan first. If you like it then you can purchase a lifetime deal for 50,000 characters. The characters renew every month for a lifetime!
I liked Rytr so much that I purchased the monthly plan for unlimited credits. If I cancel the monthly plan, then the lifetime plan will be active.
ContentBot offered three codes at $49 each. I purchased all three codes. With each code, I received more long-term credits to write blogs.
All the lifetime deals were what I wanted. Each AI content writer had a unique quality that no other content writer possessed.
Why AppSumo Lifetime Deals Helps Creators and New Businesses?
AppSumo's Lifetime Deals are an opportunity for content creators to save big without sacrificing the quality of the product. This is because they allow you to buy lifetime subscriptions, which come with a price break.
AppSumo believes in Lifetime Deals because they understand that it's not always easy to budget your finances. As such, they provide an opportunity to save big without sacrificing quality. They do this by giving lifetime subscriptions.
Lifetime deals are beneficial for new companies because they represent a way for the company to offer value up front and rapidly rise to the top of search and social media results. This strategy also ensures that customers will remain loyal over the lifetime of the company and offer potential investors a sense of assurance that the company will be around for a while.
How to Get AppSumo Lifetime Deals Before They're Gone Forever!
As you may have guessed, the AppSumo Lifetime Deal is only available for a limited time. Once it's gone, it's gone–forever.
AppSumo is online digital sumo, or service provider of discounted digital products, that offers deals for software and other tech-related items every day. The site offers various categories such as tech tools, business tools, lifestyle goods, and more.
It's easy to overspend on too many deals. When you buy a lifetime deal at AppSumo, it's like buying a shiny object. It's hard to know if the tools will be necessary down the line and people often end up buying tools they don't need. Be sure to check out all the details before you buy!
Only purchase Lifetime Deals when you know you'll have a need for them or have used them before. This way, there is no confusion in terms of what you're purchasing.
Final Thoughts on AppSumo
Appsumo is a great website for finding great tools for blogs and websites to grow your business quickly.
I recommend trying out their app to see what it does for your marketing, design, and business.
Great Lifetime Software Deals-Huge Discount
($39) Rytr AppSumo Lifetime Deal – $10 Discount For New Users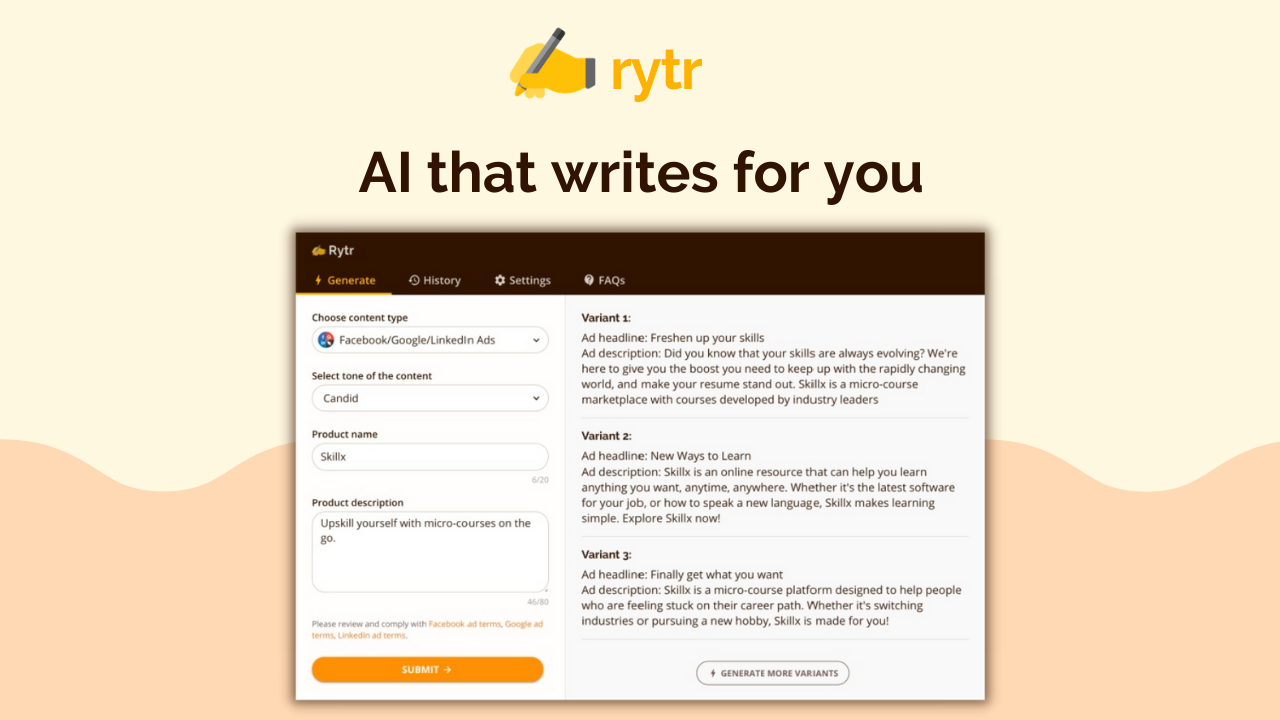 Introducing Rytr — An affordable AI writing assistant that will help you generate high-quality in a blink. If you're a freelancer, marketing agency, Blogger then you can create easy content for blogs, e-commerce stores, ads, emails, social media, and more, in just a few seconds, at an insanely cheapest cost!
My Favorite Website
AI Tools
Try for free